I'm linking up with Clarissa over at Lowercase Letters for Miscellany Monday!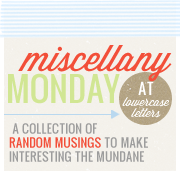 1. Hello September- I can't believe you are already here. This means I have one month to get everything ready for baby boy to make his arrival! I have so much to do.
2. All these post abut fall makes me jealous. It's still in the upper 90's here in Fl and last year we didn't get cooler temps until January. I miss wearing boots, sweaters, leggings and your usual fall clothes. But I live in a state where pretty much everyone wears shorts and flip flops year round. Fall here in Fl really makes me miss living in Wisconsin. The change in the leaves, the cool crisp air, bonfires outside, I could go on forever. Oh well I am still looking forward to taking Gianna to the pumpkin patch and trick or treating with her little brother. I probably won't decorate at all this year for fall or Halloween since the baby is due so close to Halloween but I will try. It is my favorite time of year after all
3. As I am typing this post I am watching Rugrats. At 5:30 in the morning. Why you may ask? I told a friend I'd watch her kiddos over night so and her husband could have some alone time. He deploys soon and I knew they could use the time together. The kids and I spread out blankets and pillows all over the floor and "camped" out in my living room. However at 430 I was woken up by the 4 year old who had peed everywhere. So at 4:30 I had to scrub my carpets, do laundry and give the kiddo a bath, it's going to be a long day. Her mom better be bringing me a large Pumpkin spice latte from Starbucks when she comes to get the kids
4. I have been craving anything and everything pumpkin flavored. Pumpkin donuts, pumpkin coffee, pumpkin muffins. You name it. Since I've been at dunkin donuts every day this past week I think it's time I just go to Walmart and buy the pumpkin k-cups and creamer in order to save some money.
5. My washing machine is on the outs. I'm hoping it lasts until the hubs comes home, which will be around Thanksgiving. I guess that means I will be cutting back in the amount of laundry I do. Shouldn't be too hard since its just the baby and I anyway
6. I am starting a new small group at church this week. Parenting 101. I'm so excited! I've never participated in a small group before and am looking forward to learning something new
7. This month is crammed full of activities that I know it's going to fly by. I have my maternity pictures, baby shower, various friends kids bday parties, and lots of activities with my Mops groups planned. I also need to squeeze in a spa day for me. This Mama needs a pedicure, manicure and her eyebrows done horribly!
That's it everyone. Happy Monday everyone